Team
Shelby Vadnais
After graduating from The University of North Carolina Wilmington with a degree in biology, Shelby realized she wanted a career that involved animals. Growing up she always had a passion for animals, specifically canines, and dreamed of becoming a veterinarian. During her college career, she worked at many doggy daycares and veterinarian hospitals, where she discovered she was interested in dog behavior more than the science of dog medicine. Her first dog, Tucker, a shih-poo, was what initially sparked her passion for dog training. She got Tucker, her freshman year of college, and in her spare time taught him a bunch of funny tricks (just what every freshman should be doing). Training came very natural to her and she loved the bond it created between the two of them. After graduating, she spent a year working and managing a doggy daycare, boarding, and grooming facility, but her mind kept coming back to her passion for dog training. That's when she did some research on how to become a dog trainer and found out about The Dog Wizard Academy. And since then…she has not looked back! It is the greatest job in the world getting to help dogs live better lives!
Tucker– A 9 year old shih-poo that is Shelby's little shadow. He knows a bunch of silly tricks and has quite a goofy personality. He holds a very special place in her heart.
Hurley– A  8 year old pit-lab mix, was Shelby's second dog. She was rescued from the side of the highway and now lives a wonderful life alongside her brothers. She is a happy-go-lucky pup who loves everyone!
Taz– A 6 year old border collie, is full of personality and intelligence. He loves to play fetch with his tennis ball, go swimming, and learn tricks. He is also an agility dog with plans to compete in the future.
Bandit– Bandit, who is Taz's littermate, was also added to the pack! He is polar opposite of his brother but is super smart and handsome!
---
Cranston Blanks
A Charlotte native, Cranston has a lifelong love of animals. A graduate of Appalachian State University, he received a Bachelors in Health Promotion with a minor in Psychology. His love of the outdoors brought him to a career where he could both work outside and with animals. He began his career as a trainer working at Metro Paws, a local boarding and day care facility. He spent hours on the dog lot learning their behaviors,mannerisms, and learning how to properly socialize all breeds of dogs. Through Metro Paws he met Gretchen (at original The Dog Wizard in Charlotte) and began to study under her, learning her method of training as well as her business method. Cranston studied and trained at The Dog Wizard for a year before leaving to open his own Dog Wizard in Columbia, SC. There he grew a successful company with a large and happy clientele base. He moved back to Charlotte in July 2012 to partner with Gretchen as an instructor for The Dog Wizard Academy. While at the Academy in Charlotte, Cranston met Shelby and knew instantly that this is someone he wanted to run a business together with helping dogs. Cranston's love for the beach and getting to work closely with clients (instead of students) was something Cranston missed immensely while in Charlotte as an instructor. So I guess the cliche, "the rest is history" is appropriately used in this situation and Cranston could not be happier! Cranston's right hand girl is his terrier mix Carmen. Carmen was saved from the streets by Lorrayne and at an early age and now works side by side with Cranston and the dogs he trains. She specializes in socializing aggressive dogs and is a prime example of how training can rehabilitate any dog, even one who has never had a home.
Carmen– See above
Bear-  He's a 4 year old Landseer Eastern Continental type, all the way from Holland! He is a big goofball who also helps socialize aggressive dogs!
Boone– Boone is an 13yo Plott/pit mix who was having trouble in his original home but found a place here helping other dogs in their rehab journey and living out the rest of his days in leisure.
---
Lauren Brockway
Lauren had a passion for animals since she can remember. Growing up there was never a time her family did not have 2 or more dogs. In college, Lauren acquired her first personal dog, Harley, a Male Chihuahua. She was lucky enough to be attending Lees-Mcrae College which was actually one of the very few pet-friendly campuses in the US where Harley lived in her dorm and attended classes with her! She trained him in Obedience, Rally Obedience and Agility ( which was by far both of their favorites!), not to mention all the crazy tricks he learned! Many were apprehensive about her choice of breed however she proved them wrong by raising up a happy, confident, well behaved pup. After returning home Lauren began working at a boarding and daycare facility where she was fascinated by learning to read dogs cues and body language and others could tell she had quite a natural knack for it! Lauren was then given the opportunity to become and Assistant Manager of a very knowledgeable well-known holistic dog and cat store where she learned a vast amount of knowledge on proper species appropriate nutrition for our carnivorous canines, along with other overall knowledge of keeping our dogs healthier in a more natural way. The whole time Lauren realized something was missing when she met Shelby and Cranston and they saw a gift in her with dog training. Her dream was realized. With her pack of three she hopes to shed (pun intended) a positive light on showing how proper socialization, structure and obedience can bring the best out of your dog no matter age, breed, or gender.
Wesson- Wesson is a 5 year old Golden Retriever/Cane Corso mix scooped up off of craigslist at 1.5 years old. He is a big goober and just a love. We like to call him the Godfather of the dogs. Wesson's helps Lauren with her appointments and is a rock star when it comes to helping re-socialize aggressive dogs.
Blue- Blue was originally rescued from Eastern Herding Dog Rescue by Shelby and Cranston as a failed foster attempt because she fit in so nice with the pack. Blue came to us basically feral, with little human contact. Blue was then adopted by Lauren and the rest was history. This little 7 year old Blue Heeler is a changed pup. She has blossomed into the perfect dog.  you wont see her far from her Knight and Shining Armor, Wesson. Lauren is in the process of starting Blue's agility career!
Harley- Harley is a 7 year old Chihuahua. Harley started the passion of training for Lauren. As a younger pup Harley competed in competition obedience but then went over to Agility which became his forte. Harley is possibly the coolest Chihuahua you will ever meet and you can frequently see him out at big local dog events representing and showing off for WDW!
---
Dewayne Freeman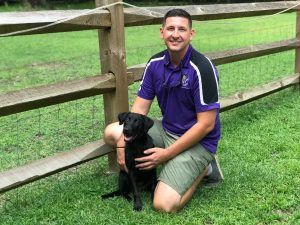 ---
Rachel Garris – Lead Office Manager
Rachel happily joined The Dog Wizard team in March of 2017! She has grown up with a love of dogs her entire life, so becoming a part of this team was an absolute dream! She and her favorite girl, Lucy, her 11 yr old rescue, handle the day-to-day logistics of the office. Their daily routine includes talking with
dogs and their people about their goals in training, scheduling appointments, and managing the office tasks. The best part of her job is being part of such a
wonderful team, and helping build positive relationships between people and their pups. In her free time, Rachel loves to play roller derby and macrame. Rachel is a passionate outdoor enthusiast and enjoys spending time outside hiking with Lucy and her two active and energetic sons.
---
Amy Campbell – Office Manager
Amy has been with the Dog Wizard Office team since December 2016! Amy has a very important role with being the first point of contact for Dog Wizard clients.
She helps manage the day-to-day needs, phone calls, and appointments which she does so well. Amy has a passion for helping customers at the highest level and
ensuring they feel great and know that there is hope for their dog. The best part about her job is not only getting to talk with clients about their dogs but also having her rescue mutt, Winston, hang out with her all day! When she's not helping us in the office she can be found enjoying the outdoors with Winston. We are grateful to have her on our team!
---
Chloe Debrowski – Office Manager
Chloe is a New York native! She began working with people with disabilities while obtaining her bachelor's in Social Work. Throughout this journey, she noticed much of her free time was spent caring for animals, so she began a dog sitting business. She took it upon herself to volunteer and give back to the community at local animal shelters and sanctuaries in her free time. Chloe used to competitively ride horses but now just enjoys riding in her free time. Chloe discovered these experiences brought her immense happiness and consequently to shift her career toward one involving helping animals. Chloe is a proud and loyal member of our Dog Wizard family. When you talk to Chloe about your dog and the troubles you are having you will immediately feel at ease with her compassion for you and your dog! One of the best parts of her job, she gets to spend time at home with her two pups Bax and Benji.
---
Noelle Woodhead – Business Coach
Noelle has been a part of The Dog Wizard family when her path as a trainer started in 2011. She launched the Charleston Dog Wizard location in 2012 there she was able to help a lot of clients and their dogs have a better life and gain more freedom. In 2016 Noelle took over as the lead office manager where she was able to make an impact on the team to better serve the clients and trainers. With her first hand training knowledge of and knowing what it was like being on the other side as a trainer the office support was able to grow by leaps and bounds. She has helped build the office team with a family culture, compassion and passion that can be experienced with every client they talk to. Noelle continues to oversee the office but now spends her time continuing to develop and grow The Dog Wizard trainers and their businesses so that we can help even more people than we already do! She spends most days working remotely on her boat with her sidekick, Huckleberry.